Tips For Smart Back to School Finances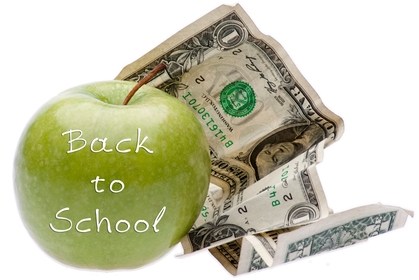 As the summer winds down and students are preparing to get back into school, parents are looking for cost effective ways to reduce expenses and get ready for the upcoming supply needs. While it is not possible to avoid buying those necessary items like notebooks, pens and pencils, parents do not need to face the possibility of breaking the bank. It is possible to save money with careful planning and a few tricks.
Protect Children's Identity
Identity theft is a growing problem, but parents can protect their children's identity with services like lifelock.com. The purchase of a new computer is not enough because students need to look up information for projects. While parents might think it is difficult to steal a child's identity, particularly during the early school years, it is possible if a child inadvertently provides information online.
Lifelock and similar services are available to offer identity theft protection. All college students and parents should invest in this low-cost service because it protects identifying information and issues alerts when suspicious activity occurs. This saves money in the long-term, particularly when it relates to a child's credit history.
Consider Sustainability
When parents or college students look at supplies, the first instinct is getting the least expensive item available. While it is possible to save a little on the cheapest products initially, some of the sustainable alternatives will have a lasting impact on financial savings.
Many of the least expensive options are also made with harmful toxic chemicals that can have an impact on health in the future. Rather than opting for the lowest cost, parents and older students should consider the possible health effects, the impact on the planet and the benefits to the wallet.
Sustainable items are not only about recycled paper, but also the possibility of buying computers or other gadgets that require less energy. The better energy efficiency will save money in the long-term, though it might have a slightly higher initial cost when compared to the least expensive alternative.
Look for Sales
The available sales vary based on factors like location, but most parents and students will find that the final weeks before school starts herald better reductions. Back to school shopping should begin in August, when the stores are offering better reductions on clothes and school supplies.
The sales will vary by state, but in the states that offer zero state tax on school supplies during a certain weekend or two, many stores will compound the savings. Parents and students who wait until tax-free weekends will find that the savings on supplies are dramatically lower. The tax is non-existent and the stores offer some reductions at the same time.
Look for Coupons
Coupons are available to help cut costs further. Depending on the source of the coupon, such as online coupon codes or coupons clipped from the paper, the savings will vary. Add companies to a "like" list on social networking websites to get special discounts on back-to-school necessities.
By shopping with coupons or coupon codes issued by the company social networking page, newspapers or similar sources, it is possible to save a small fortune. Children and young adults need computers, tablets and similar devices to keep up with homework and projects.
Saving on necessities for school is not difficult with a little careful planning. Parents or college students can save by looking for special rates, making use of coupons and watching for days that the government offers tax-free purchases on school related items.
Related articles