Hulu Reports $695 Million Revenue, With 3 Million Paid Subscribers
It's been a really great year for instant video streaming services and the millions of us who use them.  Early in the year Amazon launched its instant streaming service for Prime customers. Earlier this month Netflix inked a deal with Disney to bring the Mouse house video library to their customers. Then this week Redbox announced its plans along with partner Verizon to enter the instant streaming market. With all this news you might think the video streaming news pipeline was all tapped out. Think again.
Today Jason Kilar, Hulu's CEO, announced details of the record breaking year they've had. So what's driving the growth? Solid leaps in ad revenue, subscriptions and great content deals. Here are a few of the highlights:
65% increase in subscription revenue
subscriber base doubled in 2012
28% more advertisers
expanded library of content by 40%
2300 TV series, 60,000 TV episodes
launched on Apple TV, Wii, Wii U, Windows 8 tablets and Android devices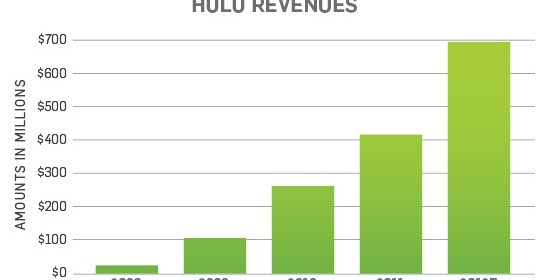 Accessing more subscriptions
Access and availability has been a major subscription growth driver. Subscribers exploded as Hulu found it's way on to more major devices this year.  Hulu launched on a small range of Android devices in 2011 but rolled out to the rest earlier this year. Followed by quietly joining the Apple TV family and Nintendo's Wii in July, Windows 8 tablets in October, and finally the Wii U in November.
In addition to becoming more accessible to audiences on the go, Hulu launched in Japan in late 2011 and has been growing it's Japanese subscription base by leaps and bounds.
Expanding content and finding an audience
In order to serve their expanding demographics Hulu has secured streaming deals with major content providers around the world. Expanded partnership with Viacom recently netter Hulu Nickelodeon programming including iCarly, Big Time Rush, SpongeBob, Kung Fu Panda and the new Teenage Mutant Ninja Turtles.
The deal also expands the BET, Comedy Central, Spike, MTV and VH1 content and a number of latino audience focused shows.
Where will it go from here?
Expect to see more diversity in the ads being displayed. If you've been a long-time subscriber you understand the grueling monotony of seeing the same advertisers overplayed commercials over and over.
It's gotten a LOT better this last year, and that's no accident. This year Hulu has expanded to over 1000 advertisers - 28% increase over last year. As more advertisers get on board & the competition for ad space heats up, expect to see better ads, more diversity and quite possibly more frequency.
Also don't be surprised in Q1 2013 doesn't have us discussing Hulu's acquisition by Microsoft, Google or even Amazon. And we thought 2012 was a big year for video streaming services.