Pros and Cons of Remortgaging in Today's Market
Remortgaging is the process of starting a new or different mortgage on a property. It can involve cancelling the current mortgage and moving onto a different lender.
One reason people remortgage is to save money; it is possible, that upon comparing the interest on your present mortgage, the interest rates offered by other lenders in the market are lower.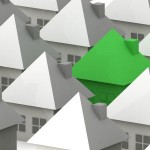 Other lenders, who are offering lower interest rates, may also offer other terms and conditions that are more appealing. Another reason for remortgaging would be to raise some money for making home improvements or to consolidate other debts.
Whatever the reason, it makes sense to evaluate the pros and cons of a remortgage before opting for one.
Pros of Remortgaging
---
There are quite a few benefits of remortgaging; the first one being the possibility of getting a better deal than the present mortgage, which could save substantial money on repayment.
You can also make use of the home's equity to generate additional cash, which can be used for other investment purposes.
Remortgaging also gives an opportunity to save money on interest fees and you can consolidate debts into an affordable and viable monthly payment.
Cons of Remortgaging
---
A possible disadvantage associated with remortgaging is that you may have to pay a mortgage exit fee, early repayment fee or arrangement fee; which would add to the cost of moving one's mortgage to a different lender. From a long term perspective, your repayments and potentially result in an overall increase in cost. In case of failure in repayment, the property that would generally be used as collateral in a remortgage can be repossessed by the lender.
One last disadvantage is that if you have arrears with previous lenders, you may be subject to increased interest rates which could cost you a chunk of change.
In general, remortgaging takes several weeks to complete; so people who are in a hurry or who want to get things done quickly are usually not ideal candidates.